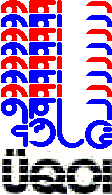 GRAMMAR
SYLLABLE STRUCTURE
The syllable order is as follows:
vowel, consonant-vowel, consonant-consonant-vowel, for all but the last syllable,
which can end with either a consonant or a vowel.
DIGRAPHS
Syllables may begin with the following digraphs:
bz,bz',ps,ps',vd,vdh,vn,vl,ft,fth,mn,ml,
gdh,gv,gz,gz',gzh,ghdh,ghv,ghz,ghz',ghzh,kth,kf,ks,ks'ksh,khth,khf,khs,khs',khsh,
dv,dz,dzh,dl,tf,ts,tsh,tlh,dhb,dhv,dhm,dhg,dhgh,dhd,dhj,dhj',dhz,dhz',dhn,dhl,
thp,thf,thk,thkh,tht,thq,thq',ths,ths',thlh,
jl,j'l,qlh,q'lh,
zb,zv,zdh,zg,zgh,zj',zl,z'b,z'v,z'd,z'dh,z'g,z'gh,z'j,z'j',
sp,sf,st,sth,sk,skh,sq,sq',s'p,s'f,s't,s'th,s'k,s'kh,s'q,s'q'.
VERBAL FORMS
These are the verb forms of the noun faasq'u, meaning eye.
dhuufaasq'u to see
dhnuufaasq'u I see
dhnu'ufaasq'u we see
dhluufaasq'u you see
dhlu'ufaasq'u you (pl.) see
dhmuufaasq'u he sees
dhmu'ufaasq'u they see
dhduufaasq'u she sees
dhdu'ufaasq'u they see
dhuufaasq'u it sees
dhu'ufaasq'u they see
dhnuufaaghisq'u I am seeing
dhnu'ufaaghisq'u we are seeing
dhluufaaghisq'u you are seeing
dhlu'ufaaghisq'u you (pl.) are seeing
dhmuufaaghisq'u he is seeing
dhmu'ufaaghisq'u they are seeing
dhduufaaghisq'u she is seeing
dhdu'ufaaghisq'u they are seeing
dhuufaaghisq'u it is seeing
dhu'ufaaghisq'u they are seeing
dhnuufaazüsq'u I am seen
dhnu'ufaazüsq'u we are seen
dhluufaazüsq'u you are seen
dhlu'ufaazüsq'u you (pl.) are seen
dhmuufaazüsq'u he is seen
dhmu'ufaazüsq'u they are seen
dhduufaazüsq'u she is seen
dhdu'ufaazüsq'u they are seen
dhuufaazüsq'u it is seen
dhu'ufaazüsq'u they are seen
dhnuufaaghizüsq'u I am being seen
dhnu'ufaaghizüsq'u we are being seen
dhluufaaghizüsq'u you are being seen
dhlu'ufaaghizüsq'u you (pl.) are being seen
dhmuufaaghizüsq'u he is being seen
dhmu'ufaaghizüsq'u they are being seen
dhduufaaghizüsq'u she is being seen
dhdu'ufaaghizüsq'u they are being seen
dhuufaaghizüsq'u it is being seen
dhu'ufaaghizüsq'u they are being seen
tfiifaasq'u I will see
tfi'ifaasq'u we will see
tsiifaasq'u you will see
tsi'ifaasq'u you (pl.) will see
tshiifaasq'u he will see
tshi'ifaasq'u they will see
tlhiifaasq'u she will see
tlhi'ifaasq'u they will see
tiifaasq'u it will see
ti'ifaasq'u they will see
tfiifaaghisq'u I will be seeing
tfi'ifaaghisq'u we will be seeing
tsiifaaghisq'u you will be seeing
tsi'ifaaghisq'u you (pl.) will be seeing
tshiifaaghisq'u he will be seeing
tshi'ifaaghisq'u they will be seeing
tlhiifaaghisq'u she will be seeing
tlhi'ifaaghisq'u they will be seeing
tiifaaghisq'u it will be seeing
ti'ifaaghisq'u they will be seeing
kfaafaasq'u I saw
kfa'afaasq'u we saw
klhaafaasq'u you saw
klha'afaasq'u you (pl.) saw
kthaafaasq'u he saw
ktha'afaasq'u they saw
ksaafaasq'u she saw
ksa'afaasq'u they saw
kaafaasq'u it saw
ka'afaasq'u they saw
To express the negative, add qi to the prefix (dhnuuqimotog I do not drink)
The habitual present singular is expressed by the prefixes q'o,q'a,q'u,q'e;
the habitual present plural is expressed by the prefixes q'ö,q'ä,q'ü,q'ë.
PASSIVE FORM
klhahozüi one being thought about
ACTIVE FORM
klhahoghi'i thinker
ADVERBIAL FORM
klhahozhei'i thoughtfully
NOUN FORMS
Noun cases are as follows:
The definite article is expressed by duplicating the vowel in the last
syllable, and visceralizing it, as shown:
klhahoi head klhahoiï the head
Plural: klha'ahoi heads klha'ahoiï the heads
To express the definite article in relation to distance, duplicate the vowel in
the last syllable, and shorten or elongate it, depending on whether the duplicated vowel started out long or short, as follows:
klhahoi'ïï this head*
kla'ahoi'ïï these heads*
klhahoi'ii that head
kla'ahoi'ii those heads
zuqee'ë this text
zu'uqee'ë these texts
zuqee'e that texts
zu'uqee'e those texts
*As you can see, the duplicate is visceralized when expressing the direct article in relation to proximity. If the vowel to be duplicated is already visceralized, the duplicate must be normal.
Possessive Forms
klhahohoi(In Üqoi, the object, not the subject, takes the possessive form, and the two words form a compound: klhahohoitelesqi (Telesqi's head)
klhahomnei my head klhahomne'ei our head
klhahomlei your head klhahomle'ei your head
klhahombei his head klhahombe'ei their head
klhahompei her head klhahompe'ei their head
klhahobzei its head klhahobze'ei their head
Klhahomlei kfaafaasq'u. I saw your head.
In Üqoi, pronouns don't exist as separate words. Therefore, the above rule applies, i.e., Zhoonamlei dhnuufaasq'u I saw you (Lit., Your self I saw.)
For emphasis, use the basic possessive form:
klhahohombei kthaafaasq'u. He saw his own head.
Dative Forms
klhahoj'ei to a head
klhahoj'oi at a head
klhahoj'i'i on a head
klhahoj'ëi off a head
klhahoj'ïi behind a head
klhahoj'äi in front of a head
klhahonoi before a head
klhahoqui after a head
klhahoj'ui with a head
klhahoj'ai under a head
klhahoj'öi from a head
klhahos'äi over a head
klhahos'ëi beside a head
klhaholai out of a head
klhahobei except a head
klhahovoi outside of a head
klhahomi'i since a head
klhahozhai in the middle of a head
klhahothoi for a head
klhahodz'ui between a head (and something else, natch:))
klha'ahomi'i all heads*

SENTENCE STRUCTURE
Üqoi grammar is object-subject-verb Mpeqaa'ään ghnoothlhumed? The fruit, did he eat?
Gzaghiqiilh dhduuzhoonai. (An) artist she is.
Mpempeqäätlhegiv s'q'ämotog? Juice, were you drinking?
Khs'uhan mbeekaplhij? Acetone, is it?
ADJECTIVAL FORMS
klhahokai thoughtful dhuuklhahokai thinkable




Üqoi







Idioms






Alphabet






Pronunciation






Grammar














Other Constructed Languages








English-Üqoi Dictionary Üqoi-English Dictionary





Literature






Numerals
EVERYTHING ON THIS SITE, EXCLUDING BORROWED GRAPHICS:
©1996-2005
BRUCE V. BRACKEN